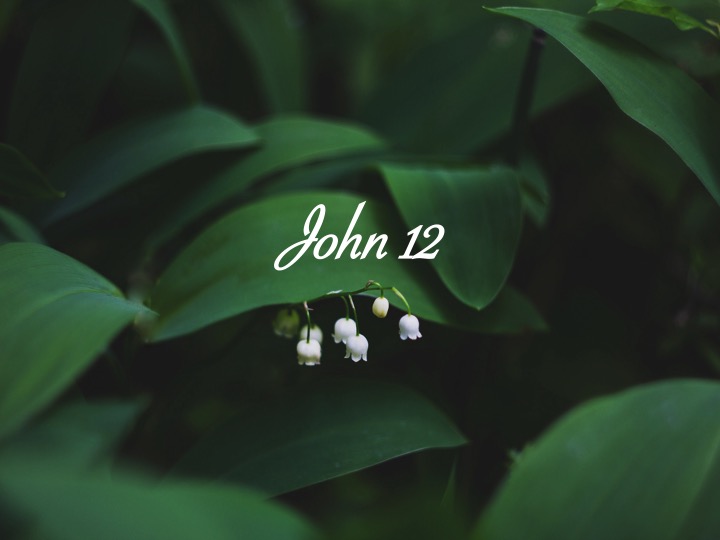 To tie John 11 to John 12, I read from Lauren Chandler's new children's book, Goodbye to Goodbyes, which is based on John 11-12.  Some of you may not be familiar with her husband Matt's diagnosis of brain cancer, so I've included a few links that you may find helpful. The sweet book concludes, "Jesus knows it is sad to say goodbye. So Jesus came to end goodbyes. And one day, Jesus and all his friends will say goodbye to goodbyes - forever!" Lauren writes a note for parents, "We are very acquainted with illness and the possibility of saying goodbye for what may feel like forever. [John Piper's prayer for Matt Chandler at T4G2010] We have asked Jesus "why" in the midst of our pain. We have questioned his methods but have been comforted by his heart. He weeps with those who weep. He rejoices with those who rejoice. He is the God who is with us in our sorrow and our joy. Although our family's story [watch more] hasn't ended in a goodbye, it will one day. But it won't be forever. For those who have believed Jesus to be their only hope, physical death will mean immediate presence with him (Phil 1:21-23) For those who are left behind, there is still hope -- hope in the life to come, and hope that Jesus will be with us "always, to the end of the age." (Matt 28:20)
For thousands of years, the people of Israel had been looking for a Messiah King. They were expecting a great military leader, one who would defeat all of their enemies and restore their land to its former greatness and glory.
But what they had

not

expected was that their Messiah, their King would come as a lowly son of a carpenter …. that He would have no weapons, no army and no political power.

They could never imagine that He would be crucified, lifted up, on the cruel cross that  the Romans designed for maximum torture.

However, over and over they were shown who Jesus was. Evidence upon evidence. Miracle upon miracle. Sign upon sign.
Yet, they refused to believe that He was in fact their Messiah. Over and over he showed who He was. And over and over, they rejected Him. John put it this way in 1:11, "He came to his own, and his own people did not receive him."
My aim in teaching John 12 (audio here) was to convince you that Jesus is the King of the world, the Christ, the Messiah, the Son of Man, the Lamb of God, rejected by His own and whose hour has come to lay down His life for those who believe.
Here is the outline for John 12
Anointing King Jesus (1-11)

Expecting King Jesus (12-19)

Seeking King Jesus (the Greeks) (20-22)

Timing of King Jesus' Glorification (23-27)

Lifting Up King Jesus  (27-36)

Rejecting King Jesus (37-50)
On his way to die, as King Jesus heads to the cross, he invites us to come to him and receive some glorious promises his death has bought for us. He says, "whoever sees me sees him who sent me." (12:45) and "whoever believes in me may not remain in darkness." (12:46)
He begs us to believe in the light, to become sons of the light. He invites us to come out of the darkness of sin and death and come to the light.  As the Light of the world, Jesus alone has the power to break the chains of sin! Jesus specializes in taking ruined, broken lives and renewing them by His power.
King Jesus offers us a home, an inheritance, a seat at God's royal table, and entrance into His kingdom of love and grace. Eternal life with King Jesus!
Jesus is the King of the world, the Christ, the Messiah, the Son of Man, the Lamb of God, rejected by His own and whose hour has come to lay down His life for those who believe.
Our right response is belief and worship.