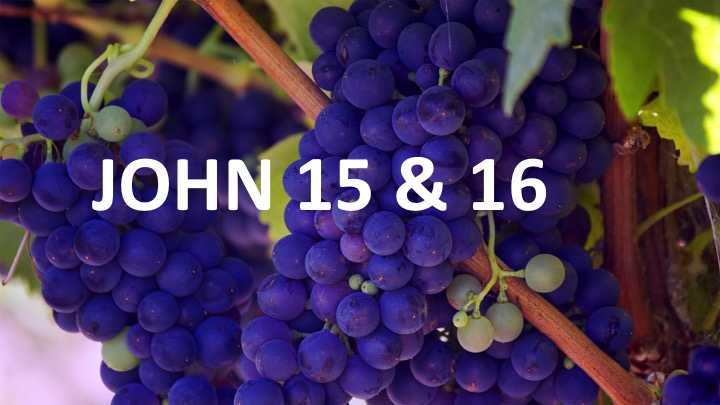 Abiding is being connected to Jesus through faith. Are you abiding in Jesus?
1- Our relationship to Christ, a METAPHOR (15:1-11)
We saw that true faith abides in Jesus and produces fruit.
2- Our relationship with believers, a COMMAND (15:12-17)
We learned that faith produces fruit of love and obedience, too.
3- Our relationship with the world, a WARNING (15:18-16:4)
We discovered that faith in Jesus brings on hatred from the world and also handles the world's
hatred … how? We are encouraged that it is only through the power of the Spirit, our HELPER.
4- Our relationship with the Spirit, a HELP(ER) (15:26-16:15)
Faith's power comes from the Spirit.

Helping us SEE (16:16-19) and turning Sorrow to JOY! (16:20-24)
5- Jesus is our Overcomer and source of PEACE (16:25-33) when we have faith in our Overcomer...we find peace in Him
Do we imagine that we are abiding in Jesus because we are better or smarter? We have no grounds for pride or boasting. Jesus chose us and set us apart -- appointed us. To do what? Jesus commands us to love one another as He has loved us. That is sacrificial, laying-down-your-life kind of love. How can we possibly do that? Only by ASKING for His help! When the Father gives us this fruit, our love will be an evidence of our abiding and an example to the world….and the world will hate us-- guaranteed by Jesus who the world hated first.